Turbine Components Network

A strong alliance based on partnership and trust
The Turbine Components Network (TCN) was formed in 2006 by Imbach & Cie. AG, Listemann AG, Haynes International (Zürich) and Franke Industrie AG.
Even though each company has been successful in its field for many years, the decision to collaborate closely within the Network is beneficial for all parties, especially for the customers.
TCN Figures:
Network of 4 independent Swiss companies
250 employees
EUR 70 Mio. turnover
All companies are located in the German speaking part of Switzerland (driving distance max. 1 hour)
Customer Advantages: 
Systems Partner for Metal Components
Know-how Pool
One Contact - One P.O.
Shared Assets
Specialized Processes
Approved Companies (such as: EN 9100:2009, Nadcap approvals, special customer approvals)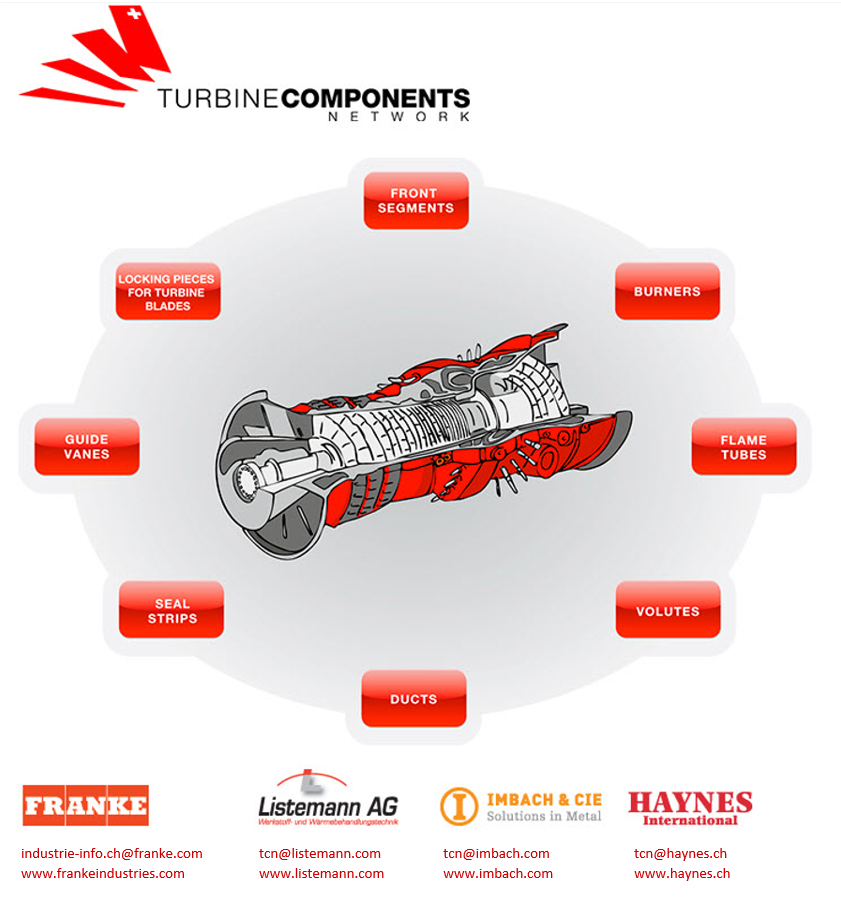 Our Processes:
3D-Abrasive Water Jet Machining
5-Axes Machining
Forming (Presse 60 - 2'000 tons), Expanding
Laser Drilling 5-Axes, Laser Cutting 2D
EDM (Wire / Die Sinking)
TIG Welding, Resistant Welding
Non Destructive Testing (RT& PT)
Open-die forging
Drop forging
Ring rolling
Heat treatment under vacuum and protective gas atmosphere
Brazing under vacuum and inert gas
MIMPro
Thermal spraying
EB-Welding
Contact CH team
Franke Industrie AG Franke-Strasse 2 4663 Aarburg - CH Monday - Friday 8.00 a.m. - 5.00 p.m.
Contact DE team
Franke Industrie GmbH Wernher-von-Braun-Strasse 4 84539 Ampfing Monday - Friday 8.00 a.m. - 5.00 p.m.